Orchard Bin Loader
Bin Loaders are available in 2 standard lengths and are designed for transporting fruit bins in and out of the orchard quickly and efficiently with only one operator that doesn't need to get off of the tractor seat. Ben Wye Bin Loaders are of heavy duty construction and are fully hydraulic.
The wheels are lowered to allow the forks to slide under the bin, and then the bin is pulled up or unloaded by using the bi-directional hydraulic driven chain.
Bin Loaders can be pushed or pulled by tractors, the hydraulics are controlled through the tractor remotes and the long wheel base gives good operator control. Bin loaders come standard in 4 or 5 bin trailers and can be custom made to suit any style of bin.
The new customised chain gives greater grip on plastic bins without causing damage to the bin itself and the auto stop lever serves as a precautionary safety stop to retain bins in the loaded position.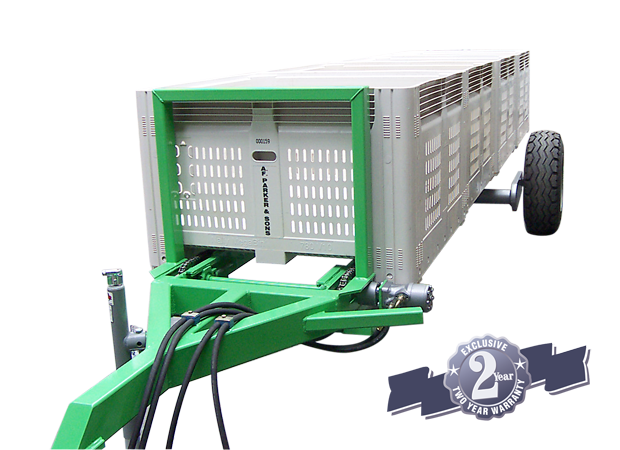 Standard models are 5 bins and 4 bins.
Heavy duty main frame made of 150x100x5mm RHS.
Rated up to 3000kg at 25km/h.
Tyres are a 10.0/75-15.3 10 ply tyre on a single piece 9.00 x 15.3 6 stud rim Hydraulic Requirements – 2  pairs of remotes; 2,200 psi 20 lpm (min).
Heavy duty hydraulic chain drive motor for smooth operation.
Customised double pitched chain for greater bin retention.
Ben Wye Bin Loaders come with an exclusive 2 year warranty.
Ben Wye Bin Loaders are Australian made and owned.